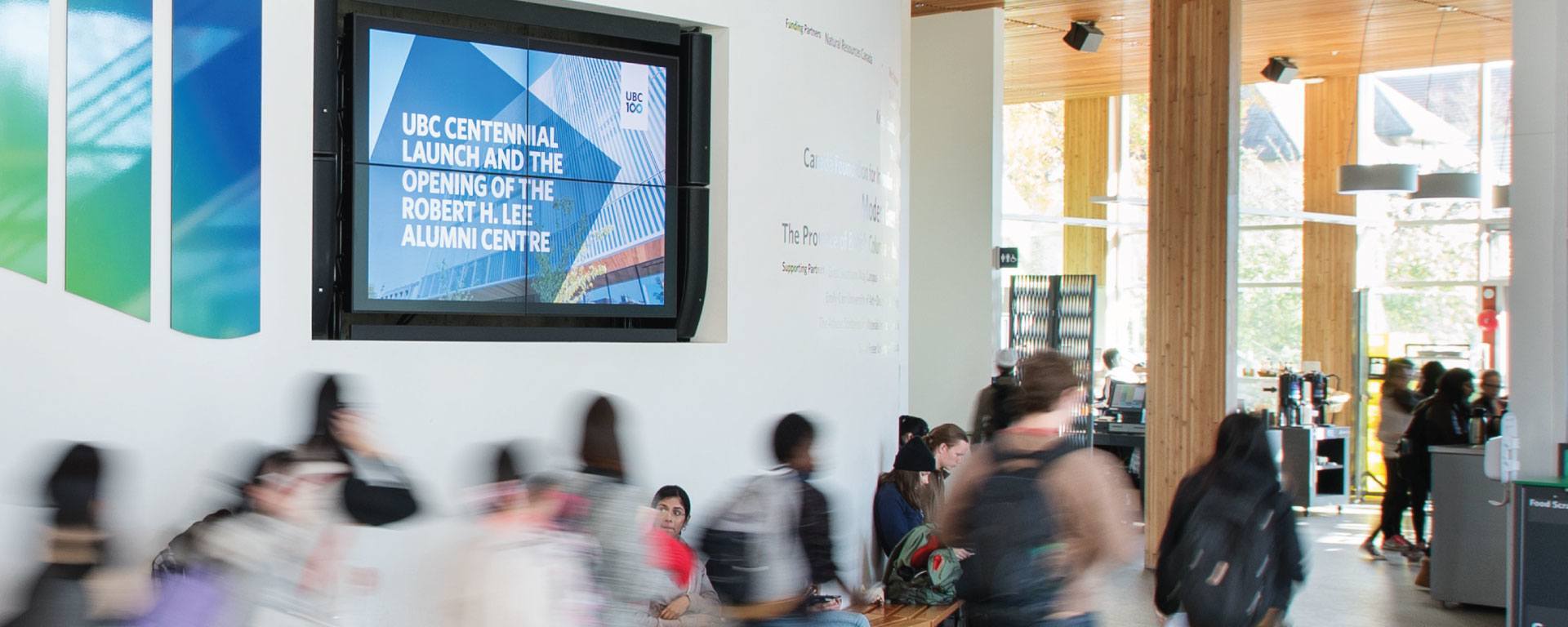 Digital Signage Toolkit
Our digital communications are consumed on multiple screens, devices, and by a broad range of audiences. At UBC, our digital signage network is an influential digital tool that provides messaging to the entire university and is a central resource for communicators.
As a university-wide system, digital signage should be integrated into your strategic communications. The platform is an opportunity to create unique content for a variety of purposes including: announcements, events, campus updates, student, staff, and faculty activities, story content, weather advisories and emergency information when necessary.
Creating digital signage content appears deceptively simple. But attracting and maintaining attention on digital screens demands creativity, design knowledge and technical skill.
Think strategically. Here's what we think works best.
---
Key Considerations for Digital Signage
1
What does 'On-Brand' digital signage look like?
Visually harmonious with a complimentary colour palette, clean and simple typography that is easily understood and striking imagery that collectively support the message.
2
Is it accessible for a broad range of audiences?
Is the type legible, copy concise, motion subtle? Keep in mind the physical display that your content appears on is crucial in helping your message make an impact with your audience and be well understood.
3
Is there a clear call to action?
Can your message be consumed and understood within 5 to 8 seconds? Will the viewer know where to find more information or act upon your message?
4
Does it speak to a specific audience?
Identify who your audience is. Shape your content so it provides a good experience for the viewer. You can do this through colours, striking portraits, and intriguing shapes or architecture that would appeal to students, staff and faculty in different disciplines.
5
Is your message relevant?
Does it provide timely information? Ensure your content is relevant to the time of day that it is programmed to be displayed. For complete content guidelines on how to incorporate digital signage into your communications, please visit UBC Digital Signage Service.
---
Downloads
Digital Signage Templates
These PowerPoint templates can be utilized to create a simple yet effective digital signage message.