Downloads
Email Signatures
Email is a widely used form of digital communication throughout the UBC community and as such, represents us as a public institution to the world. Having a consistent look and feel to our email communications creates a sense of legitimacy and trust in our communications.
If you are using email as a staff or faculty member, please ensure you adhere to our email guidelines so we responsibly use this important communication channel.
---
Key Considerations for Email Communications
Use the UBC Official Email Signature.
Please use the typeface provided in the official email signature. Non-standard typefaces and HTML may not translate well across all email programs.
Use white as the background colour.
Avoid using any graphics, colours, or backgrounds other than those specified in the official signatures.
Keep it professional.
Refrain from including quotations or philosophical statements, adding images or using symbols.
Use an authorized UBC email system.
UBC Faculty & Staff Email (FASmail) or other authorized UBC email systems must be used for UBC-related email. Using private email systems such as Gmail is contrary to privacy law and UBC policy.
Use only UBC contact information.
Please edit your information to include only your UBC-related phone numbers, emails, websites, and social media accounts.
Using URL's in your signature.
If you wish to include URLs for your unit's social media channels, along with your unit's website, just list the URL without the logos/icons for the various channels.
---
Email Communications Assets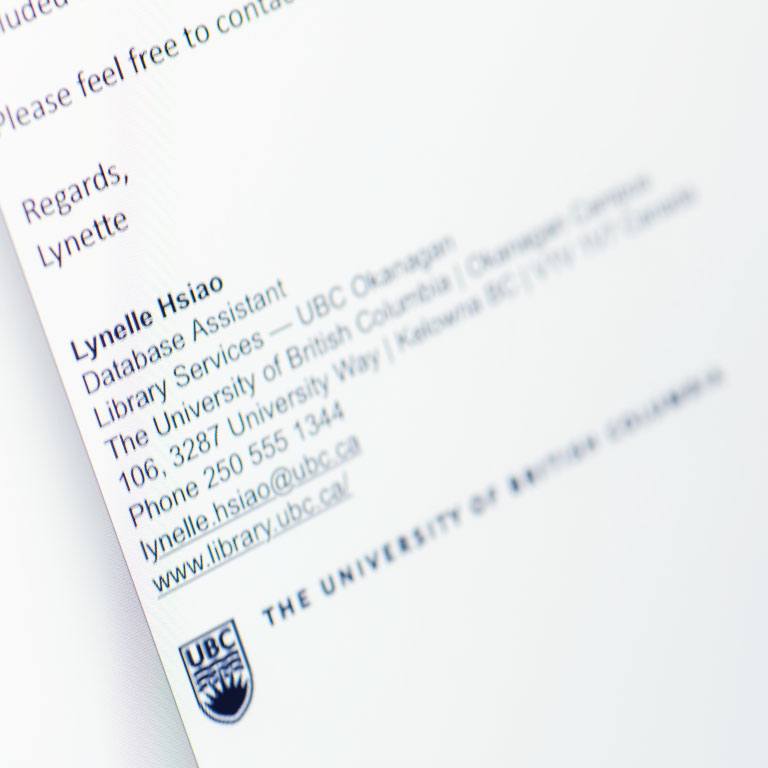 Email Signature Generator
Create your own UBC signature by entering your contact information into this form. Instructions for adding the signature to your email program are included.